CTI Rapid-Rehousing programs present at Connecticut Coalition to End Homelessness Conference
On Thursday, May 17th, a group of CTI trainers and program leaders presented their efforts to integrate Critical Time Intervention into Rapid Rehousing programs across the state at the Connecticut Coalition to End Homelessness's 16th Annual Training Institute. The day long series of workshops and lectures took place at the Connecticut Convention Center in Hartford.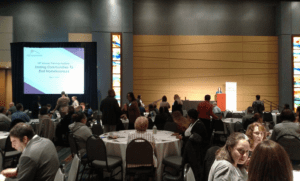 Kara Capobiaco, LCSW from the CT Department of Housing moderated the workshop, which provided an in-depth look at the preliminary integration of CTI into a select group of Rapid-Rehousing programs throughout the Connecitcut. Program leaders and practitioners from those programs, Jessica Kubicki, LCSW (Supportive Housing Works), Randy Grant, MSW and Certified CTI trainer (New Reach), Nicole Barnofski, LMSW (New Reach) and Carolyn Hanesworth, LCSW (CACTI and Hunter College) discussed how to measure the impact of CTI and shared collective challenges and lessons from the field.
Ms. Hanesworth, who is co-leading a fidelity review of the implementation at each site this summer with Sally Conover (CACTI Global Network Director), works with these programs through CACTI's CTI Rapid Re-Housing Pilot Study, which began in January of 2017.