CTI Train-the-Trainer Event in NYC, November 15 & 16
This fall, CACTI will be hosting a two-day Train-The-Trainer (TTT) event for experienced CTI practitioners!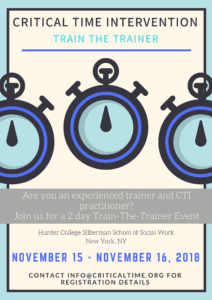 The training will allow individuals to become certified in training CTI workers, an especially valuable asset to have in-house for agencies unable to continually pay for external trainings of new employees. Previous training experience is preferred, but not required.
Where:
Silberman School of Social Work
New York, New York
When:
Thursday-Friday, November 15th-16th
Cost:
$650 (+registration fees)
Trainers:
CACTI's Sally Conover and consultant Bebe Smith
Online registration & payment here!
Please contact [email protected] with all inquiries.