Train-the-Trainer Nov 7-8, 2019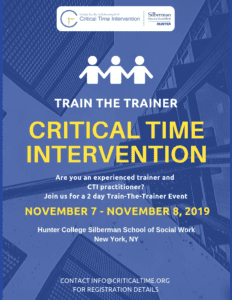 Are you an experienced trainer and Critical Time Intervention practitioner?
The Center for the Advancement of Critical Time Intervention (CACTI) is holding a two-day Train-The-Trainer event in NYC this November. Attending the training will allow participants to become certified in training other CTI workers and gain access to training resources and materials.
Where:
Silberman School of Social Work
New York, New York
When:
Thursday, November 7th & Friday, November 8th
Cost:
$650 (+registration fee)
Register Here: