Critical Time Intervention Train-the-Trainer Fall 2021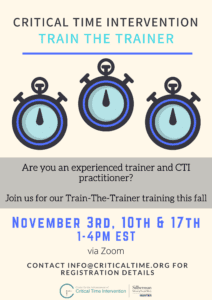 Are you an experienced trainer and CTI practitioner?  Join our Director of CTI Global Network, Sally Conover, and CACTI Consultant, Carolyn Hanesworth, for our Fall 2021 Train-the-Trainer!  This year's training will be held via Zoom over three days: November 3rd, 10th, and 17th from 1-4pm EST.  Attendance for all three training sessions is required.
Event Registration: https://us02web.zoom.us/meeting/register/tZYrd-Cqqz4iGdX9XTBgsl0lkJTOq7HcJGa_
Event Payment: https://www.rfcuny.org/eventpayment/events/index?college=hunter.
Please contact [email protected] for any questions.